Do you suffer from asthma or COPD? If so, there is a good chance that you do not have enough oxygen in your blood. If you're dealing with such a problem, you'll want to take action immediately. In order to do that you need to keep a close eye on the proportion of the oxygenated hemoglobin in your blood. How can you do that? Well, you need to equip yourself with a reliable oximeter. A pulse oximeter is a medical device, which is used in hospitals and other medical environments worldwide. It is a non-invasive device that measures the oxygenation of blood.
These pulse oximeters are easy to use and they are similar to those used in medical settings. Although most people have seen pulse oximeters and have even had one used on them by a medical professional, the majority of people don't know a whole lot about them. Most people don't know how they're used, what they are used for, and how they work. Understanding these things can help you to decide whether a pulse oximeter is for you or not. Within this guide, you will learn all about pulse oximeters.
Top 5 Best Pulse Oximeters in UK 2021
Zacurate Pro Series CMS 500DL Oximeter
Are you looking for an incredibly high-tech oximeter that will provide you with accurate answers time and time again? If so, you'll definitely want to check out the Zacurate Pro Series CMS 500DL. This fingertip pulse oximeter features a very cool LED display, which will show you your statistics within a matter of seconds. This oximeter is also lightning fast. It can provide you with the information you need in just 10 seconds. What sets it apart from its competitors? You'll find out below.
Warranty And Support
One of the best things about the Zacurate Oximeter is the fact that it is protected by a lengthy warranty. This device is protected for a period of 12 months. On top of that, all users will receive lifetime technical support from the manufacturer. Should anything go awry, you can guarantee that you'll always be able to get assistance from the manufacturer!
Works For All Ages
Another perk associated with the Zacurate Oximeter is the fact that this unit can be used by all ages. The finger chamber utilizes a SMART spring system and power save detector. This combination ensures that it is capable of accommodating an assortment of finger sizes. Regardless of your age or size, you can guarantee that you'll be able to use this oximeter.
Pros

Protected by a 12-month warranty
Comes with lifetime technical support
Large LED display shows you the statistics you need
Displays stats in just 10 seconds
Capable of accommodating fingers of all sizes
Battery life is great
Cons
Has some durability issues
Overall Assessment
The Zacurate Oximeter is truly one of the best on the planet. It is lightning fast, reliable and high-tech. Just remember that you may need to take advantage of the warranty before you know it. Nevertheless, it is well worth the investment.

ANAPULSE Finger Pulse Oximeter
The ANAPULSE Finger Pulse Oximeter is simplistic, easy to use and very reliable. This unit will provide you with a handful of statistics, including SP02 and PR. It also possesses several features to ensure that it'll save batteries and last for many years to come. For instance, the unit is equipped with an auto power off. After the unit has sat idle for a few seconds, it will shut off to save battery life. With 2 AAA batteries, it can deliver roughly 30 hours of continuous use.
Easy And Convenient
The ANAPULSE Finger Pulse Oximeter is truly one of the easiest oximeters to use. Just put your finger inside for a few seconds and pull it out. Within seconds, you'll be provided with your reading. This information will be clearly displayed on the LED screen. On top of that, this oximeter is lightweight and compact. It can easily be carried around in your pocket. This ensures that you'll be able to use it anywhere and everywhere.
Pros

Can be taken anywhere
Weighs just 50g
Pretty accurate readings
Suitable for 5 years and up
Delivers 30 hours of constant use with 2 AAA batteries
Very easy to use and read
Cons
May not be accurate 100% of the time
Overall Assessment
The ANAPULSE Finger Pulse Oximeter is a great investment. It works exceptionally well and provides fairly accurate readings. It might not be the most advanced unit on the market, but it'll get the job done right.
TempIR Premium Pulse Oximeter
Do you want the highest quality and highest tech oximeter on the planet? If so and you do not mind spending a little extra, you should consider investing in the TempIR Premium Pulse Oximeter. This unit is likely the most accurate. It comes with 2 AAA batteries and delivers 1,000s readings. It also features an auto power-off feature, so that you'll save battery life along the way.
Easiest To Use
This is, without a doubt, the easiest oximeter on the planet to use. If you're having troubles, you can always take advantage of the online instructional videos and live chat. It has a one-button touch for settings. Truly, using this oximeter couldn't be easier.
Pros

Comes with 2 AAA batteries
Delivers 1,000s readings with free batteries
Auto power-off saves you battery life
Operating instructions couldn't be easier
ABS plastic construction will last
Comes with a protective pouch and lanyard
Cons
Overall Assessment
This oximeter might be too expensive for some, but it'll be well worth it. After all, it is one of the most accurate oximeters on the planet. For that, it is definitely worth the investment.
AVAX 50DL Finger Pulse Oximeter
Shopping for an affordable pulse oximeter? If so, you should look no further than the AVAX 50DL. This oximeter is designed to provide accurate heart rate and SpOX measurements. The results are available within seconds, showing up on the PR display in bright red for superior visibility.
CE Certified
The AVAX 50DL is CE certified and conforms to EC and UK medical safety requirements. It is available in a variety of colors, including white, black and yellow. For the price, you will not beat this oximeter. In fact, it is so affordable that you could afford to purchase two, one for your home and another for work.
Pros

Available in a variety of colors
Provides accurate pulse and SpO2 measurements
PR display
Suitable for mountain climbers, hospitals, residential, free diving and aviation
Includes a 1-year manufacturer's warranty
Cons
Battery compartment is difficult to access
May not be suitable for people with extra-large fingers
Overall Assessment
The AVAX 50DL Finger Pulse Oximeter is ideal for individuals with respiratory diseases. Its easy operation allows for independent use outside of medical facilities. The LCD display provides visible readings, so you can see them from moderate distances.
MeasuPro OX250 Oximeter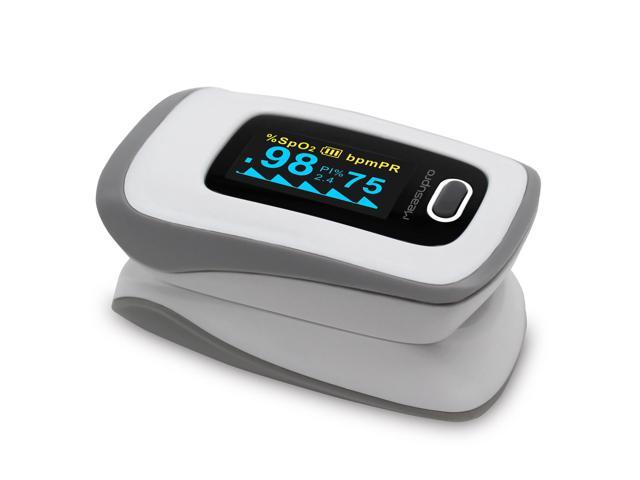 This FDA approved oximeter will provide you with the information that you need when you need it. It is a little more expensive than its competitors, but it'll prove to be well worth it in the long run. The unit is one of the most convenient. It is lightweight, compact and it'll easily fit into your pocket. Plus, this unit comes with backing from the company. More about that can be found below.
Warranty And Support
This unit is protected by a 2-year warranty. On top of that, you'll always be able to receive assistance from the company's friendly customer service team. This ensures that you'll easily be able to troubleshoot any problems you encounter.
Pros

Almost effortless to use
Screen rotates in four directions
Protected by a 2-year warranty
Easily portable
Delivers accurate, consistent readings
OLED screen shows your values clearly
Cons
Struggles with nail varnish and cold hands
Overall Assessment
The MeasuPro OX250 Oximeter isn't perfect, but it still comes pretty close. It is well worth the low-price tag. The unit is reliable and completely easy to use. Be sure to check it out for yourself right away.
Buying A Pulse Oximeter
If you are looking for a way to measure pulse rates and blood oxygen levels then a pulse oximeter is the device you need. These devices are a non-invasive way of checking these and they are small and every easy to use. If you decide to get an oximeter then you should know about the different aspects you should look at. Each of these aspects will play a role in which pulse oximeter you should buy.
Who is going to be using it?
The person who will be using the pulse oximeter is very important to determining which type you should get. If it is an adult who will be using the pulse oximeter then it is fine to get any of the regular oximeter's which are on the market. If a child is using the device then you need to look at some different options. You will have to look into getting a pediatric pulse oximeter as they are smaller in size and made to work with children. It is important that you not use a regular device on children as the readings you will receive will be incorrect.
Ease of use
How easy is the pulse oximeter to use? Some of these devices are not very user friendly as they require some form of medical knowledge. It is best that you get a device which is easy to use and comes with a detailed manual. The best way to find out if a device is easy to use is to look at reviews of the item. User reviews will tell you whether other people with the same pulse oximeter found it hard to use or not. If you do get an easy to use device but still feel that you need help it is possible to find video tutorials showing you what to do.
The type of Pulse Oximeter
These devices come in a range of different types and models. The most common type is the one which attaches to the finger. However, this is not the only type as you also get stationary oximeters and wrist oximeters. The stationary devices are generally large and not designed for home use. These are the devices that will be used in doctor's rooms and hospitals. The wrist device is very similar to the fingertip one which the exception of the display unit being on the wrist instead of the finger. Many people find this to be an easier option as they do not want to carry the finger type around with them. Wrist devices are also better for people who need to continuously monitor their readings during the day.
When looking to get a pulse oximeter there are a number of aspects that you need to look at. You will have to take into consideration the person who will be using it as children require different devices to adults. How easily you can use the device is also important as some devices can be complex to those who do not have medical training. You also need to consider the type of device and how it relates to the readings you need.
What do Pulse Oximeters Do?
Pulse oximeters measure the level of oxygen saturation in the body's haemoglobin. In healthy human beings, the oxygen saturation levels in the blood should be around 94 – 99%. If oxygen rates are lower than 94%, then this can indicate that there is an underlying medical issue. An oximeter also measures a person's heart rate.
Pulse Oximeter Background
The pulse oximeter was invented by Japanese engineer Takuo Aoyagi. Prior to this, other oximeter devices had been created by Glenn Allan Millikan and others. However, these devices were nothing like the pulse oximeters used today. Aoyagi's pulse oximeter was the first oximeter device that measured the oxygen in the blood using infrared light. It is his device that the pulse oximeters used today are based on. After Aoyagi's device, many more companies began producing pulse oximeters, and by 1987 they were used in hospitals and medical facilities worldwide.
How do Pulse Oximeters Work?
Pulse oximeters work by measuring the amount of oxygen being carried by red blood cells as they pass through the blood vessels below the fingernail.
Red blood cells are red because the hemoglobin protein contains iron. Hemoglobin consists of four heme molecules, each containing an iron ion (an atom missing or having an extra electron). One hemoglobin protein therefore contains four iron ions, and the iron ion confers to hemoglobin the ability to bind four oxygen molecules. As red blood cells pass through the lungs the oxygen concentration is so high from the outside air, that all four iron ions in a hemoglobin protein binds an oxygen molecule. This oxygen saturated blood (arterial) travels into the tissues where the oxygen is exchanged for carbon dioxide and other waste gases. The red blood cells then return to the lungs (venous) to exchange the carbon dioxide for oxygen, and the cycle repeats.
When hemoglobin is fully occupied by oxygen molecules it preferentially absorbs red light (660 nm). After hemoglobin releases oxygen into the tissues surrounding the blood vessels, thus becoming deoxygenated, it preferentially absorbs infrared light (940 nm). The pulse oximeter contains two Light Emitting Diodes (LEDs) that shine red and infrared light through the fingernail. On the other side of the finger, a photodetector in the oximeter senses the amount of light able to pass through the finger. The ratio of pulsatile over total transmitted red light, divided by the same ratio for infrared light, provides the necessary information for the oximeter to calculate the oxygen saturation levels of hemoglobin as it passes through blood vessels in the finger, resulting in an accurate measurement of arterial blood oxygen saturation levels. A pulse oximeter can therefore help monitor how well the 'lung to tissue' oxygen exchange system in your body is working.
The amount of oxygen dissolved directly into the blood is around 1.5%. This amount is insignificant by comparison to the amount bound by hemoglobin, which can range between 97 and 99% in a healthy person at rest. Pulse oximeter readings therefore represent the oxygen saturation levels of hemoglobin only.
A pulse oximeter only measures oxygen saturation of hemoglobin in the blood. As a result pulse oximeters can't detect low hemoglobin concentrations, high carbon dioxide concentrations, or poor circulation. Under these conditions, pulse oximeters will give inaccurate or misleading readings. Other factors that can interfere with accurate readings are irregularities in blood pH levels, blood pressure, finger temperature, and poor circulation.
Who can benefit from Purchasing a Pulse Oximeter?
Pulse oximeters are beneficial for a number of different people. They are particularly useful for those who have respiratory problems, such as emphysema and asthma. The device is very convenient, as it can be placed on the body easily to take a reading. It can also generate a reading fairly quickly. For those living with a respiratory illness, a pulse oximeter can be a highly useful device to have at home. You can purchase a wide range of different pulse oximeters, such as wrist pulse oximeters, paediatric pulse oximeters and fingertip pulse oximeters.
How to Use your Pulse Oximeter
Using a pulse oximeter is very simple, but there are a few things you need to know in order to get the most accurate reading. Finger pulse oximeters calculate blood oxygen saturation levels by determining the ratio of oxygenated to deoxygenated hemoglobin as it passes through a fingertip. By using the ratios of pulsatile to total red light transmitted through the finger, divided by the same ratio for infrared light transmitted, oximeter readings should theoretically be independent of variables that affect light transmission through the finger. Unfortunately, this theory doesn't hold up well under real world conditions.
The use of light to sense hemoglobin oxygen levels renders the pulse oximeter sensitive to strong external light sources. When bright light can't be avoided, the oximeter should be covered or wrapped in a towel to ensure an accurate reading.
Through numerous clinical studies and clinical observations, it's apparent that skin color and the transparency of nail polish can interfere with oximeter readings. The darker the skin or nail polish color, the more inaccurate oximeter readings are likely to be. Awareness of this deficiency has been around for some time, so some of the newer pulse oximeters coming to market claim to have solved this problem, with respect to skin color at least. For anyone wearing dark nail polish you will probably have to remove it prior to using an oximeter.
Gender also influences the accuracy of readings, simply because females tend to have smaller finger sizes. Some oximeters are designed to be used for adolescent or pediatric sized fingers and these should be considered when finger size is an issue.
Movement may cause external light to affect photodetector operation, nudge the oximeter to a different position on the finger, restrict blood flow, or alter blood oxygen levels as muscles consume more oxygen. Ideally, the person should be at rest to obtain a stable and accurate reading, although newer generation oximeters are reportedly more "motion tolerant".
Make sure the pulse oximeter is clean prior to use. The finger should also be cleaned, and checked for warmth, bruising, or damage. When choosing which arm or leg to place the pulse oximeter on, avoid any with catheters inserted, blood pressure cuffs, fistulas, or tourniquets. Do not place a pulse oximeter on any limbs not supported and maintained near heart level. The first choice is to use the middle or index finger.
Several studies have shown that hospital-grade pulse oximeters do not provide accurate or reliable readings when oxygen saturation levels fall below 70 to75%. Given these findings it's highly unlikely that pulse oximeters intended for home use will be more accurate below this range. This limitation may be of concern for anyone suffering from chronic severe respiratory diseases, like COPD.
Pulse oximeters measure oxygen saturation of hemoglobin, not hemoglobin concentrations, carbon dioxide saturation levels, or blood flow rates. As a result, underlying problems like anemia, certain forms of hypoxia, and circulation problems won't be detected by a pulse oximeter, and may lead to inaccurate readings.
Finger Pulse Oximeter Limitations
Poor positioning of the finger pulse oximeter.
Nail polish can give readings are capable false low readings.
Any issues which may cause poor tissue perfusion such as hypovoliemia, hypotension, cold extremities, hypothermia, or cardiac arrest.
Some Cardiac valvular defects can cause venous pulsation resulting in a finger pulse oximeter reading venous blood and recording low SpO2 levels. Tricuspid regurgitation is one defect.
Finger pulse oximeters accuracy decreases as the value decreases. Readings below 70% are not reliable.
Cardiac arrhythmias that alter arterial pulsation can disrupt the finger pulse oximeter from recording an accurate reading.
Carbon monoxide poisoning causing carboxyhaemoglobin cannot be distinguished from oxygen resulting in finger pulse oximeters giving false readings of 100%. Finger pulse oximeters should not be utilized when carbon monoxide poisoning is suspected.
Abnormal haemoglobins such as methaemoglobinaemia, for example following overdose of prilocaine, cause readings to tend towards 85%.
Age, sex, or skin color does not have a significant effect on finger pulse oximeter readings